About our bed and breakfast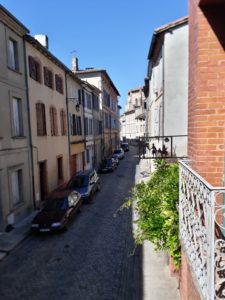 Located among the vineyards of Chasselas on sunny hillsides, Moissac is one of the great Tourist Sites of Occitania. On the road to Santiago de Compostella, the city is home to a masterpiece of Romanesque art : the Saint Peter's abbey church and its cloister from the XIIth century.
Lovers of Moissac and its abbey, we have completely renovated this XIXth century house to welcome passing guests. Less than 200m away from the cloister, our bed and breakfast, behind its traditional pink bricks façade, offers three vast and clear bedrooms, all equipped with private bathrooms.
On the first floor, the room Aliénor with classical design and pastel colors, opens onto the façade and its flowery balconies. On the second floor, facing the façade and the garden, the room Victoire with dark wood and warmer tones and facing the garden, the room Jeanne with soft and luminous colors are both invitation to relax and rest.